5 Dale Condos, 5 Dale Avenue




Toronto Central - Yonge and Rosedale Valley Rd.
Architects: Hariri Pontarini Architects
STOREYS: 4 NUMBER OF SUITES: 26
SIZE OF AVAILABLE SUITES: 2200 to 5000 sq.ft
Suite Prices: Available from just over $2,000,000.00
Price per Sq. Ft. - $997.00
Density is finding its way into Toronto's upscale Rosedale neighbourhood with a proposal for a four-storey 26-unit condo development at 5-9 Dale Avenue. The proposal would see two conjoined condo buildings erected on the site of three existing detached single-family homes, which would be demolished to make way for the new structure. The project is headed by Dale Inc. and Dale II Inc.—subsidiaries of Hunter Milborne Real Estate, given that the address and contact info on the application form matches their current address—and is designed by Hariri Pontarini Architects.
The building would rise three storeys on the south side of Dale Avenue, and step up to four storeys at the rear, where it overlooks the Rosedale Valley to the south. The project is technically two structures with two separate cores, but the architectural language appears as one, with the eastern section set back further from the street to preserve views of the neighbouring houses. The massing is broken up by large brick dividing walls, intended to be reminiscent of the Edwardian Classical architecture of the surrounding historic homes.
The development comprises a total of 26 units, which includes six 2-bedroom units averaging around 215 square metres (2,300 square feet), and twenty 3-bedroom units averaging around 320 square metres (3,400 square feet). The building would also include about 416 square metres (4,480 square feet) of indoor amenity space. No outdoor amenity space is provided, given that each unit has either an at-grade patio, a terrace, or a balcony.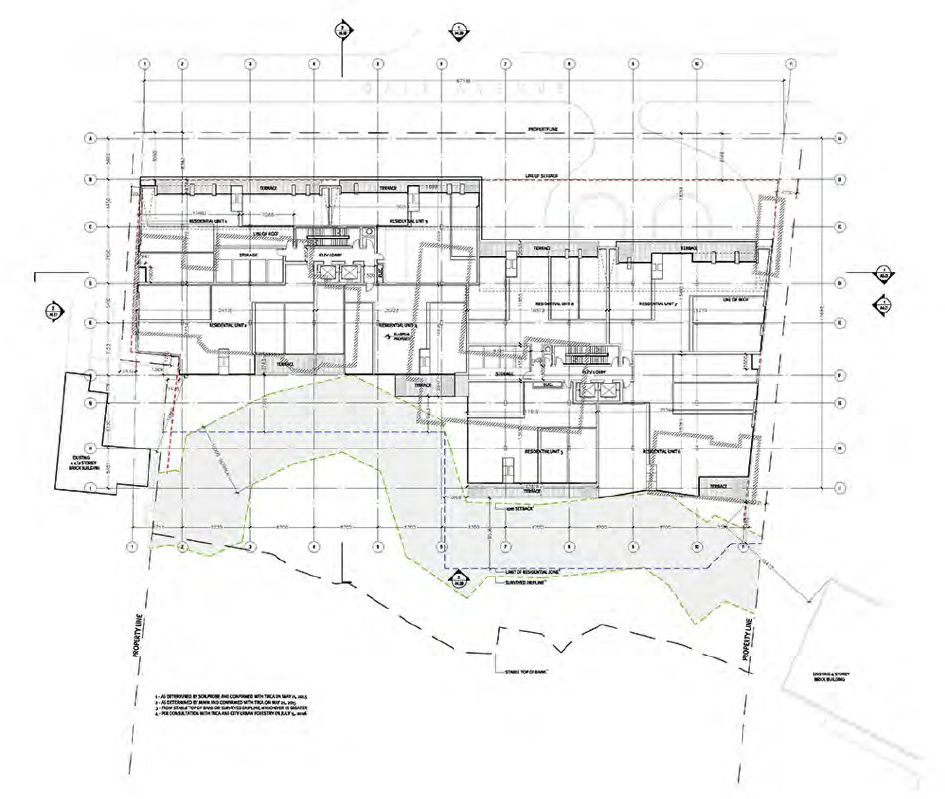 Third floor plan showing footprints of houses currently on the site, image courtesy of Dale Inc.
The total gross floor area of the development is 8,784 square metres (94,500 square feet), which would equate to a proposed floor space index (FSI) of 2.0. There are 58 parking spaces provided in an underground parking garage, along with 27 bicycle parking spaces.
Landscape plan, image courtesy of Dale Inc. and Dale II Inc.
The Heritage Impact Assessment submitted with the development application states that the project will have little to no impact on the heritage character of South Rosedale, which has its own Heritage Conservation District. The three houses being demolished are mid-century bungalows built between 1945-1954, and are deemed as contributing properties to the heritage character, albeit of the lowest classification. Notable associations of the existing buildings include the home of former Toronto mayor Ralph C. Day at 5 Dale, and Toronto architect Gordon Sinclair Adamson, founder of what is today known as Adamson Associates, who designed 7 Dale.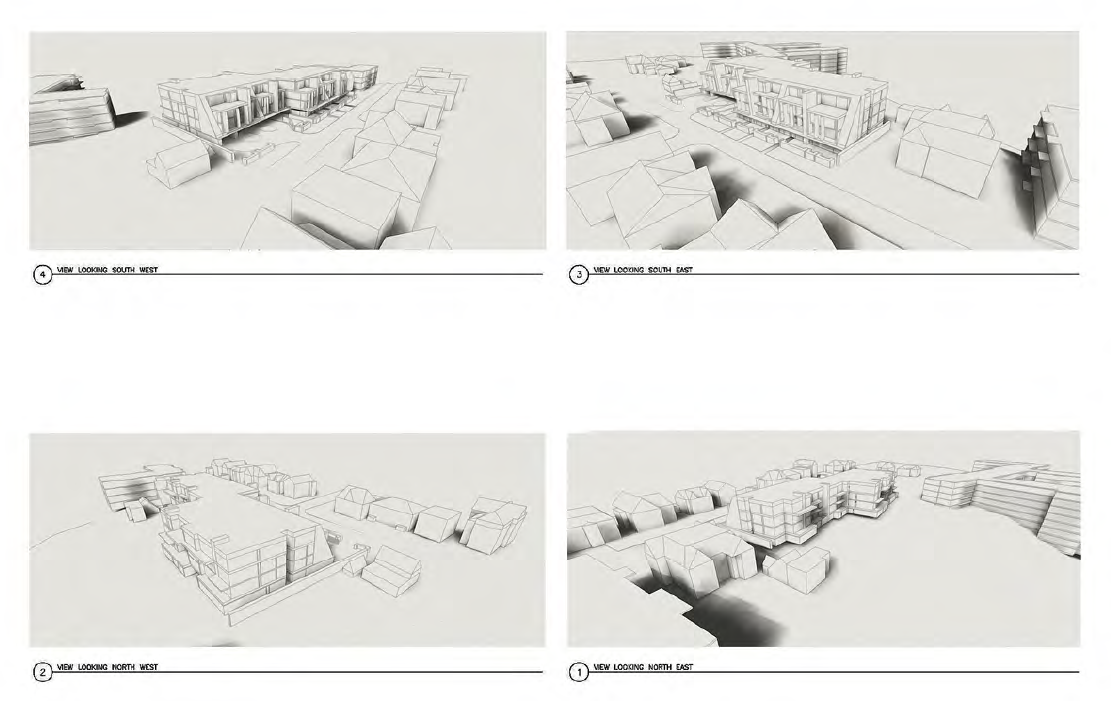 Massing and shadow study, image courtesy of Dale Inc. and Dale II Inc.
Stay tuned for more updates as this development works its way through the planning process. Want to get in on the discussion? Check out the associated Forum thread, or leave a comment in the space provided on this page.
5 Dale Condo Amenities: - TBA

Nearby Shops, restaurants and Entertainment:
• Starbucks
• Whole Foods
• Holy Chuck
• Union Social Eatery
• Goodlife Fitness
• LCBO
• Canadian Tire
- Bloor Street shopping and The " Mink MIle"
- Bloor Station
- Hazelton Lanes Shopping Centre / Yorkville Village
- Toronto Public Library
- The Royal Ontario Museum (The ROM)



Chantal Rosenthal
Sales Representative
Sotheby's International Realty, Canada
416-804-2262
Please complete the form if you have any real estate questions or to receive floor plans and prices for available suites .
Thank you for your enquiry.
We do not represent the developer . Not intended to solicit Buyers and Sellers currently under contract with other Realtors .
Search Condos For Sale :